10,000KM (Long Distance)
Synopsis
Alexandra and Sergi make love in their tiny Barcelona apartment. They've decided to have a baby, but find their plans dashed when Alex receives an offer for an artistic residency in Los Angeles. Understanding this may be Alex's last chance to re-launch her photography career, the couple decides to put their plans on hold for a year.
Separated by 10,000 kilometers, Alex and Sergi must rely on virtual communication to keep the flame of their relationship alive. But with their realities no longer shared and the touch of one another gone, the technology that has supposedly brought the world closer together may just tear them apart.
Credits
Director: Carlos Marques-Marcet
Executive Producer: Pau Brunet, Mayca Sanz, Danielle Schleif
Producer: Tono Folguera, Jana Díaz Juhl, Sergi Moreno
Screenwriter: Carlos Marques-Marcet, Clara Roquet Autonell
Cinematographer: Dagmar Weaver-Madsen
Editor: Julia Montañés, Carlos Marques-Marcet
Production Designer: Laia Ateca
Sound Designer: Jonathan Darch
Additional Credits: Wardrobe Supervisor: Vinyet Escobar, Make Up and Hair Stylist: Jesús Martos, Photo Project: Aleix Plademunt, Assistant Director: Laia Colom, Sound Recordist: Diego Casares / Pablo Gregorio
Principal Cast: Natalia Tena, David Verdaguer
Director Bio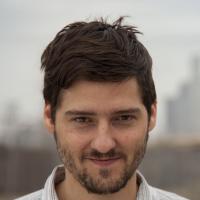 Marques-Marcet's short films in the US include "I'll Be Alone" (Beijing International Film Festival) and "Yellow Ribbon" (DGA student award). He directed the feature documentary "De Pizarros y Atahualpas". Mr. Marques-Marcet has also edited such films as "Caracremada" (Venice Film Festival) and "It Felt Like Love" (SXSW, Sundance).
Still