Thank You a Lot
Synopsis
Jack Hand is a two-bit hustler and bottom-rung music manager with a questionable reputation. His dwindling social circle is made up of his only remaining clients; a hip-hop artist and an indie rock band. Jack's next best asset is his talented but estranged musician father, James Hand, a highly respected and reclusive songwriter whose legacy goes a long way in a music town like Austin. Jack is forced by his management company to sign his musician father to a management deal or lose his job and threaten the livelihood of his only friends. Jack hustles his way through a vibrant and diverse music scene as he struggles to keep his clients and create a bond with his estranged father.
Credits
Director: Matt Muir
Producer: Chris Ohlson,
Screenwriter: Matt Muir
Cinematographer: Harrison Witt
Editor: Nevie Owens
Production Designer: Caroline Karlen
Principal Cast: Blake DeLong, James Hand, Robyn Rikoon, Sonny Carl Davis, Jeffery Da'Shade Johnson
Director Bio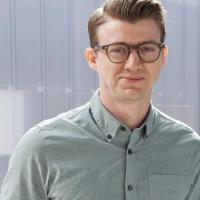 Matt Muir is a Texas-born writer and director who began his creative career at the Dynamite Museum Art Collective. His award winning short film, Sons of the Rodeo, premiered at SXSW and went on to screen internationally. Matt directs music videos and commercial projects in Austin. Thank You a Lot is Matt's feature directorial debut.
Contact
Public Film Contact
Chris Ohlson
Clearing A Comma, LLC
chris@chrisohlson.com
512.560.7944
Still