Black Women IN Rock
The image of a black woman singing metal rock lyrics or riffing on a lead guitar is rare. The American music world is still at a loss on how to promote these women in a society where the categorization of music is still largely impacted by race. Black women in rock discuss their journey to cultivate their fan base, tour and market their music as indie artists in a genre where their presence is least expected.
Presenters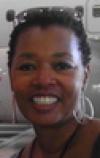 MODERATOR
Sheila Jackson H
CEO/Founder Eves Lime Productions
Nice & Rough: Black Women IN Rock
Sheila Jackson H. is an award-winning Writer-Producer who began to explore the subject of Black Women IN Rock out of her love for honest, raw, and soulful music.
She is the Director and Executive Producer of Nice & Rough, a multi-platform project that includes a documentary, soundtrack release, concert tour, online community and more - all designed to celebrate the women who put the soul in rock n' roll.
This former radio talk show host is well-known for her candid, no-holds-barred, essays and features which have been seen in ESSENCE magazine, Panaché, and publications around the world.
Sheila is a historian, and co-author of two biography collections, published by Scholastic, Inc. She is also the CEO of Eve's Lime Productions, specializing in commercials, film, and integrated media.
For more information about Black Women IN Rock visit, niceandrough.com

MilitiA
VIP Artist
The man who brought The Beatles to America, Sid Bernstein calls MilitiA "A superstar!" Dee Snider (Twisted Sister) says "She ROCKS!" Kathleen Hanna (Bikini Kill, LeTigre) says she has "One of the best live voices I've ever heard." MilitiA is an solo artist (MILITIA), front-woman of JUDAS PRIESTESS- The World's Only All Girl Tribute to the Metal Gods, Judas Priest. Unapologetic about her love for rock and metal music, she is a host, writer, blogger, video creator/director for AFROPUNK, and a member of the Black Rock Coalition. AOL Music named her one of the TOP 5 BLACK WOMEN ROCKERS TO WATCH in 2012 and M was recently featured in Rolling Stone.

Laina Dawes
Music Journalist
Writing is Fighting
Laina Dawes is the author of What Are You Doing Here? A Black Woman's Life and Liberation in Heavy Metal (Bazillion Points Books, 2012). A music and cultural critic and concert photographer, her writings and photography can be found in both print and online publications such as the Deciblog.com, The Wire, Noisecreep.com, Bitch magazine, NPR, the Toronto Star, Exclaim! Metal Underground.com, Hellbound.ca, CBC Radio, and Metal Edge magazine. She also runs the blog Writing is Fighting and is a contributing editor for Blogher.com's Race & Ethnicity section. She currently resides in Toronto, Canada.

Stefaniah McGowan
CEO Artist Mgmt and Music Supervisor
Stef Angel Music Group
Stefaniah McGowan, a veteran of the music and film industry is a creative music publishing executive and film/TV music supervisor and producer.
Additionally, she is quickly becoming the go to music manager for pop, indie-alternative, crossover, and urban acts, and represents a stellar roster of music composers. She draws from a diverse background of knowledge and practice to build winning brand strategies.
A valued advisor she is a highly requested consultant and manages songs and publishing catalogs for award-winning songwriters and composers globally.
A key visionary and contributor on soundtracks and albums, she is highly regarded for acquiring major label recording projects, securing copyright and song placements, music publishing and critical licensing deals with labels such as Sony Music, Universal Music Group, Warner Brothers, Concord Records, Blue Note, Def Jam, Island Records and EMI.
She has worked with several high profile artists/producers and projects such as George Duke, Ingrid Chavez, Dianne Reeves, Anita Baker, Baby Face, Az Yet, Sounds Of Blackness, Rachelle Ferrell, Kelly Price, Smokie Norful, Caleb Middlebrooks (Chris Brown, Rhianna, Mya), Neal H Pogue (Lil Wayne, Outkast, TLC) and the new French hip hop sensation, We Are Me just to name a few.
Feature film/TV credits include, The Trouble With Bliss (Lucy Liu, Michael C Hall), Never Die Alone (DMX and Michael Ealy), Good Fences (Whoopi Goldberg and Danny Glover)
Stefaniah is the principal of Stef Angel Music Group, a Los Angeles based music management firm that specializes in artist and composer management and music supervision for film and television and is the Executive in Charge of Music and Producer for the multi-platform project, "Nice & Rough: Black Women IN Rock," which includes the documentary, concert tour, and soundtrack release.
For more information about Stef Angel Music Group, visit stefangelmusic.com

Kudisan Kai
Artist
Kudisan Kai sang for six years with Elton John, and toured with rock legends such as the Rolling Stone and Eric Clapton. She has also toured extensively with Chaka Khan, and performed with Sting, Saliva, Joe Cocker, Mary J. Blige, and many others. She left the road to join the faculty of the renowned Berklee College of Music, where she has created a curriculum on women in rock. Kudisan is currently working on a new CD entitled, "Transcend". Her debut CD, Confessions has been described as an incredible mix of deeply personal lyrics, blaring heavy metal guitar riffs and earth shattering vocals.