Does Scale Matter in Healthcare?
Can the small stuff scale in health? When many of our largest health care issues are systemic or policy driven, what's needed to truly transform our ecosystem and drive lasting change? Do health start-ups have what it takes? Can they get it? How?
It's gospel with tech start-ups that you should focus on scale first and foremost. In healthcare, it's the opposite. Traditional drug and medical device companies focus on validating effectiveness, and rely on larger acquirers to take a new technology to scale.
What's the right model for tech companies in health? Should start-ups be focused on scale or effectiveness first and foremost?
Sue Siegel, current CEO of GE Healthymagination; Aman Bhandari, Senior Advisor to Todd Park at the White House; Geoffrey Clapp, mentor at Rock Health/founder of Health Hero Network; and Dr. Charles Saunders, CEO of Emerging Business, Aetna; will debate issues of scale, scope and impact, and the road to working together to get this right.
Presenters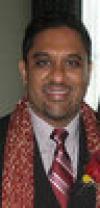 Aman Bhandari
Sr Advisor to the CTO
US Department Of Health & Human Services
Aman Bhandari works at the White House Office of Science and Technology Policy where he is a Senior Advisor to the U.S. Chief Technology Officer. While in government he worked on a variety of domestic and global health policy issues and national initiatives that focused on the intersection of health IT, data and innovation. He launched the flagship open data effort around health which aimed at connecting entrepreneurs with free health related data to power services and applications. Aman also co-founded the Federal Mobile Health Collaborative, advancing the development of HHS mHealth policies and programs.
Charles Saunders
CEO, Emerging Businesses
Aetna
Charles E. Saunders, M.D., joined Aetna on Jan. 31, 2011, as CEO of Emerging Businesses.
In this role, he is responsible for leading the strategic diversification of Aetna's products, services and global opportunities. He is helping Aetna achieve its goals of identifying new growth opportunities and developing market strategies that can help the company profitably manage quality and cost for its customers.
Dr. Saunders is a physician and an accomplished business executive with expertise in health care services, information technology, and business process operations.
Dr. Saunders came to Aetna from Warburg Pincus, one of the world's largest and oldest private equity firms, where he served as an executive in residence. In that capacity, he provided strategic leadership in assessing and pursuing growth opportunities in health care services and health care IT. Before that, he was the chairman and CEO of Broadlane, Inc., a technology-enabled health care services company that specializes in supply chain and clinical workforce management for hospitals and their affiliated physicians.
He has held a number of other significant leadership positions during his career, including president of EDS Healthcare Global Industry Solutions; chief medical officer of Healtheon / WebMD; principal of A.T. Kearney; and executive director of San Francisco General Hospital Managed Care Programs. He has served as an Emergency Department and Emergency Medical Services medical director.
Dr. Saunders received a B.S. in biological sciences from the University of Southern California and an M.D. from Johns Hopkins University. He is board certified in Internal Medicine and Emergency Medicine. He has served on the faculty of several universities, including the University of California, San Francisco; Vanderbilt University; and University of Colorado. He has authored papers and articles in emergency medicine and was the editor of several editions of the widely-circulated textbook, Current Emergency Diagnosis and Treatment.

Sue Siegel
CEO
GE Healthymagination
Sue Siegel
CEO, healthymagination
General Electric Company
Sue Siegel leads healthymagination, GE's $6B commitment to enable better health for more people. Healthymagination applies GE's scale to transform healthcare by incubating innovative businesses, processes, and solutions to increase its quality, access, and affordability. Ms. Siegel leads GE's healthcare venture investing through its healthymagination Fund.
Previous to GE, Ms. Siegel led investments in personalized medicine, digital health, and life sciences as a Silicon Valley-based venture capitalist. Before her VC years, Ms. Siegel dedicated over 20 years driving the growth of breakthrough technologies at Bio-Rad, DuPont, Amersham, and Affymetrix (NASDAQ: AFFX). As President and Board Member of Affymetrix, Ms. Siegel built shareholder value, leading its transformation from pre-revenue start up into a global, multi-billion dollar market cap genomics leader.
Ms. Siegel serves or has served on over a dozen private and public corporate boards. Here community service includes serving on Stanford Hospital Board's IT Committee, as a board member of the National Center for Advancing Translational Sciences Cures Acceleration Network, and serves on the Executive Committee of Santa Clara University's Center for Science, Technology, and Society's Board. She is a President's Circle member of the National Academies of Science, a Henry Crown Fellow of the Aspen Institute, a member of YPO-WPO, and of Women Corporate Directors. In the bestselling business book: Multipliers: How The Best Leaders Make Everyone Smarter, Ms. Siegel was a featured "Multiplier". In 2010, she was recognized as one of "The 100 Most Influential Women in Silicon Valley". With Stanford Hospital, Ms. Siegel co-founded Checking-In™, a program dedicated to serving the local aging population. She is Board Member Emeritus of the Silicon Valley Tech Museum and served on The Gladstone Advisory Council.