Cavalier
Synopsis
A father with restricted custody kidnaps his 20 month-old son to take him on a road-trip.
Credits
Director: Steven Schardt
Producer: Zachary Treitz,
Screenwriter: Steven Schardt, Christian Palmer
Cinematographer: Ashley Connor
Editor: Lucy Munger
Production Designer: Kate Lyn Sheil
Additional Credits: Sound: Jesse McAlpin, Gaffer: Justin Derry, Co-Producer: Kate Lyn Sheil, 1st AC: Michael 'Goat' Goatley
Principal Cast: Christian Palmer, Dakota Goldhor, Karn Junkinsmith, Henry Myers, Joel Deckard, Jeff McDonald
Director Bio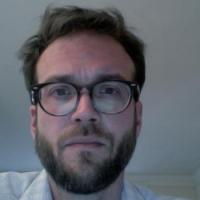 Steven Schardt produced "Humpday", "Your Sister's Sister", "Touchy Feely", and "The Oregonian". He lives in Louisville, KY.
Contact
Public Film Contact
Steven Schardt
Most Favored Nations
info@mfnations.com
Still