The Places Where We Lived
Synopsis
A man wakes up with a weird feeling. His parents are selling his childhood home. A goodbye/love letter to Florida.
Credits
Director: Bernardo Britto
Executive Producer: Dean Marcial, Grant Curatola
Producer: Brett Potter, Lucas Leyva, Ben Cohen and James Benson
Screenwriter: Bernardo Britto
Additional Credits: Artist: Alexa Haas, Sound Mixer: Martin Anderson
Principal Cast: Ben Sperling, Koji Hosokawa, Alexa Haas, Rebecca O'Keefe, Efrén Hernandez, Elissa Aron, Ben Cohen
Director Bio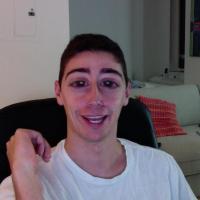 Born in Rio de Janeiro, Brazil, Bernardo Britto graduated from NYU's Tisch School of the Arts. He co-directed the feature film "Nothing Yet" and received the National Board of Review Animation Grant in 2011. He was also selected as a 2012 Marcie Bloom fellow.
Contact
Public Film Contact
Bernardo Britto
Calavera USA
bdlbritto@gmail.com
(347) 560-9832
Still