The Slaughter
Synopsis
A pig farmer tests his unemployed son's resolve to join the family business.
Credits
Director: Jason B. Kohl
Producer: Larissa Michel, Jason B. Kohl
Screenwriter: Jason B. Kohl
Cinematographer: Amanda Treyz
Editor: Jason B. Kohl
Production Designer: Benjamin Dell
Sound Designer: Brandon Jones
Additional Credits: Casting Director: Brad Gilmore, Associate Producers: Benjamin Arfmann, Peter Kohl, Nora Mandray
Principal Cast: Michael Shamus Wiles, Elijah Bridges
Director Bio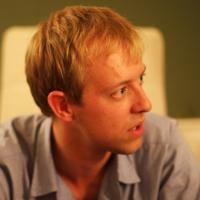 Michigan-born Jason Kohl is half-Austrian but mostly American. In 2006 he moved to Berlin on a Fulbright Scholarship and liked it so much he stayed for another three years. In 2012 he got his MFA from UCLA and headed back to Berlin on a DAAD Artist Study Scholarship.
Contact
Public Film Contact
Jason B. Kohl
info@jasonbkohl.com
Still